The Options Are Limitless
Are you throwing an event? Then we'd love to help you elevate it! No matter what you have in mind, our professional team of experts can transform your vision of a fun, memorable gathering into a real-life night to remember.
Birthday party? Check. Fashion show? Check. Corporate event? Check. The list goes on. Our dedicated team of pros can make your next gathering unforgettable. And did we mention that we are especially fond of doing weddings?
Not to Brag… But We Really Are One-of-a-Kind!
Not only are we pleased to offer such a unique dance floor option for your next event, we are the only company in Tampa Bay that offers a 3D Infinity Mirror LED dance floor!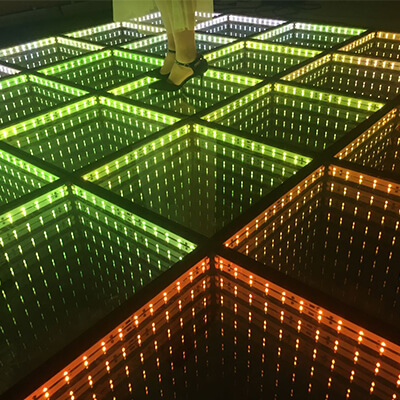 The 3D Infinity Mirror LED Dance Floor
Our newest product is the 3D infinity mirror LED dance floor. We have a clear, white matte version that gives us the ability to create all kinds of designs and display any color imaginable. With vibrant colors, this dance floor alone can turn your party up a notch with almost no effort.
You can use our LED dance floor to serve as a display for a showroom car, create a runway for a fashion show, or its primary role: a dance floor for a wedding, party, or festival.
How large of a dance floor do I need?
The industry standard is that you should budget 4.5 square feet of space for each guest, or 9 square feet for each couple. For example, if you're hosting an event for 100 people, you can anticipate 50 people or 25 couples on the dance floor at one time, so you'll need a 16′ x 16′.
We can also work with you on custom designs and sizes.