3 Reasons to Have an LED Dance Floor at Your Wedding
Are you looking for a way to make your wedding stand out? LED dance floors make a stunning addition to any wedding while leaving a lasting impression on guests! 
Whether you want to add an experiential element to your wedding or encourage friends and family to dance the night away, here's why you should have an LED dance floor at your wedding. 
Reasons to Rent an LED Dance Floor for Your Wedding
1. Give a Sense of Occasion
If you're looking to set your wedding apart from the rest, look no further! LED dance floor rentals are the perfect way to add a personalized touch to your indoor or outdoor ceremony. 
Florida LED Dance Floors offers the 3D Infinity Mirror LED dance floors, which is a fantastic option for displaying different colors and patterns. Not only are 3D dance floors fully customizable, but they can also be programmed for constant illumination in a single color or an assortment of colorful lights.  
Whether you want a white dance floor for your first dance or multicolored LED lights for getting guests out of their seats, we can do both – the possibilities are endless! 
2. Customizable Configuration & Colors
We can assemble our LED dance floors in just 45 minutes thanks to magnetic power and easy data connections. 
LED dance floors are made of modular square panels configured to fit any size wedding venue. While most dance floors are square, we can fit an LED dance floor into smaller spaces by configuring it in a more rectangular shape, or just using a smaller shape overall. 
Because they can be configured in so many different ways, LED dance floors are a great way to fill up empty space at your wedding venue. 
LED dance floors can be used for more than just dancing. They're also terrific for
Wedding cocktail hour

Bride and groom's entrance

First dance

Speeches

Cake cutting
We can adjust the colors of our LED dance floors to display whatever you want! Maybe you'd like a solid white look for your first dance, but prefer a multi-colored look that syncs to the beat of the music once it's time for guests to start dancing the night away. 
Are you entertaining outside? Our 3D dance floor rentals are water resistant, making them a fantastic option for outdoor weddings or busy receptions. 
3. You'll Have a Team of Dance Floor Experts
Even if you've enlisted the help of a wedding planner for your nuptials, they might not have the experience to visualize, assemble, and operate an LED dance floor. And while LED dance floors are easy to set up and tear down, it's best to consult a professional rental company. 
While we can't the same for every dance floor rental company, Florida LED Dance Floors provides a team of experts that help with
Planning every aspect of your LED dance floor rental, from space requirements to color configurations 

Quick set up that's completed within 45 minutes 

A technician to run the dance floor throughout the event 

Efficient takedown once the wedding is over 
As LED dance floor rental providers in Clearwater, FL, we specialize in producing wedding dance floors from the ground up. Once we've discussed your time and budget requirements, our creative designers will use 3D software and Photoshop to show you how we'll transform your venue. 
Our team of talented technicians will also stay behind to help operate the dance floor. With years of experience creating LED dance floors for weddings of all sizes, you can trust us to bring your wildest dreams to life!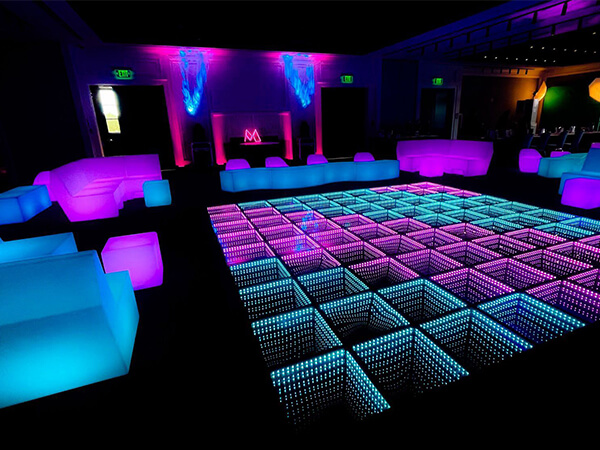 Tips for Renting an LED Dance Floor for Your Wedding
Are you sold on the idea of an LED dance floor? Here are a few things to keep in mind when renting a dance floor for your wedding day.
Keep a solid headcount

. Take a look at your guest list to know

what size dance floor you need

for your wedding. That way, there's enough room for everyone to hit the dance floor. 
Consider where the dance floor will go.

Place your dance floor rental in a spot that's central to all wedding guests, so no one feels left out. LED dance floor rentals are great for highlighting areas of a venue. If you need help figuring out the best spot for your dance floor, we're happy to help plan it with you! 
Stick to your budget.

You can calculate

how much an LED dance floor rental will cost

based on the square footage of your venue or the number of people on the guest list. If you have a specific budget or request, let us know! 
Find a rental option that's easy to set up.

If you're

renting an outdoor LED dance floor

, you need something that can be taken apart quickly. In the case of inclement weather, which is more often than not in Florida, choose a rental option that's portable and easy to reassemble. 
Wedding LED Dance Floor Rentals in Clearwater, FL
Florida LED Dance Floors specializes in creating and producing wedding rentals using 3D Mirror LED dance floors. Whether you're renting an LED dance floor for an event or a wedding, we will design a dance floor that fits the size of your venue. 
Florida LED Dance Floors is based in Clearwater, FL. We currently cover all of the Tampa Bay area and South Florida tri-county region, including
Contact us today or call 727-474-9927 for a FREE wedding LED dance floor rental quote!