How to Rent an LED Dance Floor: A Complete Guide
Are you throwing an event? An LED dance floor can help elevate it! No matter what you have in mind, our light-up rentals create a unique experience for every client we're hired for. 
Our LED dance Floor experts in Clearwater, FL, break down the process of renting an LED dance floor and why you should consider one for your upcoming event! 
What Is an LED Dance Floor?
If you don't already know, LED dance floors are panels or tiles that light up with vibrant colors. 3D LED dance floor rentals come in a variety of shapes and sizes. 
Most LED dance floor rentals are made of strong plexiglass, making them great for busy parties or outdoor use. You can use your LED dance floor rentals to create a runway for a fashion show, display a showroom car, or as a dance floor for a wedding or event. 
How Do LED Dance Floors Work? 
LED dance floors are digital, which gives you the ability to generate custom colors and tile patterns! The sides of the square panels are reflective, diffusing the light and creating the illusion of a lighted tunnel. 3D LED dance floors can also flash in different colors and be synced to music. 
At Florida LED Dance Floors, our newest product is the 3D Infinity Mirror LED dance floor. We have a clear, white matte version that can display any color or pattern imaginable. 
Not only are we pleased to offer this unique dance floor option, but we're also the only company in Tampa Bay that rents 3D LED dance floors!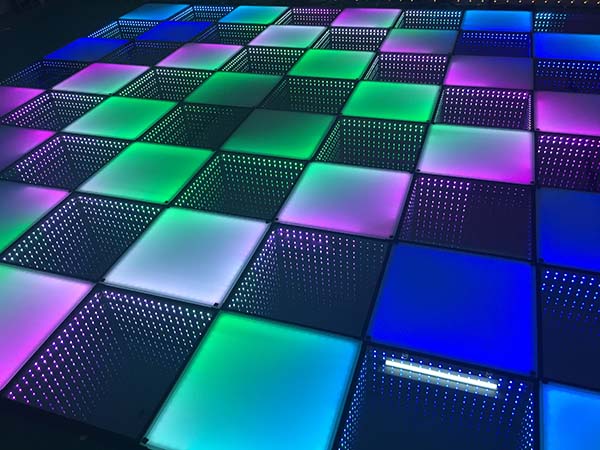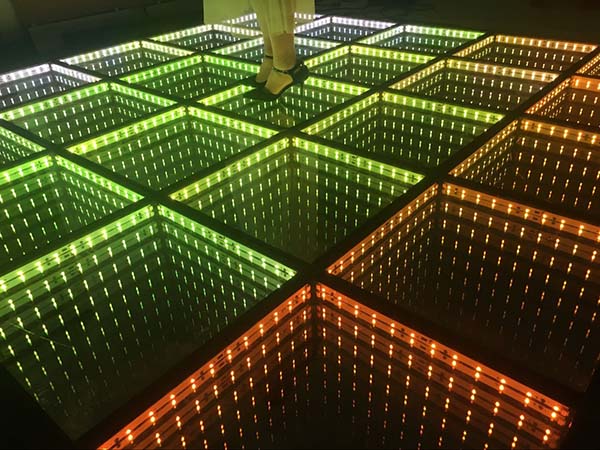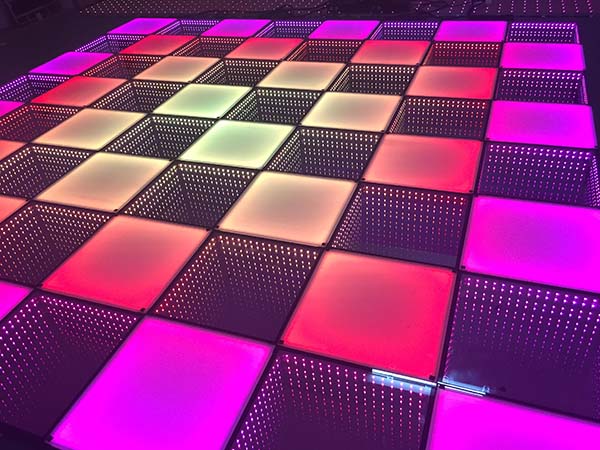 How to Rent an LED Dance Floor
Renting an LED dance floor is easy! All you have to do is contact Florida LED Dance Floors for a custom-built LED dance floor rental. This can be done over the phone or through email! All we need from you is an idea of how many guests will be attending and the approximate size of your event space.
From there, we'll send you a FREE quote for your next event – just tell us the event type and how many guests you're expecting! 
Design Your LED Dance Floor Rental
Our dedicated team of professionals develops unique ideas for our clients before bringing them to life. However, before we start the design process, we'll dedicate time to brainstorming the best look for your event while sharing our concepts with you. 
We'll also use 3-D programs and Photoshop to show exactly what your LED dance floor will look like. 
Elevate Your Event
When you rent from us, you can rest assured your dance floor will arrive and be set up on time. We're event professionals, and we want to help your party run smoothly! 
Our LED dance floor rentals have low power consumption, making them eco-friendly, and can be assembled in 45 minutes or less. After assembly, our team will ensure the dance floor is exactly where you want it – whether it's outdoors in a party tent or at the center of a dining hall. 
A lighting technician will stay to operate the dance floor during your event. Once the party is over, we'll promptly break down the dance floor and take it away! 
We service multiple areas of Florida, including: 
Get in touch and let us know how we can help support your next event! 
Why Rent an LED Dance Floor?
Not only do our LED floors take any event from fun to fantastic, but they also create the opportunity to celebrate with friends and family. There's nothing like an LED dance floor rental to get your guests up and dancing! 
From small, intimate bashes to larger-than-life parties, here are a few reasons you should rent an LED dance floor. 
Fully customizable -

Whether you need multi-colored tiles for a themed party or an all-white floor for a formal wedding or event, the options are endless! Our team will configure an LED dance floor rental that meets your size and budget requirements. 
Maximize a venue -

When you book a venue with a dance floor, you're limited to whatever size it is. Our rentals can serve multiple functions, from dancing to socializing and speeches. 
Custom sizing -

LED dance floor rentals come in different sizes and can be altered to meet your dimensions. No matter the size, our team can transform your vision into a real-life night guests will never forget! 
Water-resistant -

Hosting an outdoor event? Our LED dance floors are water-resistant, making them a great addition to your outdoor party! However, certain limitations apply. Our

outdoor LED dance floors

will not operate on rainy days or grass surfaces. 
Interested in Renting an LED Dance Floor in Clearwater, FL? 
For years, we've provided Florida with reliable, high-quality LED dance floor rentals for weddings, parties, events, and so much more! From Tampa Bay to South Florida's tri-county region, Florida LED Dance Floors is proud to be one of Florida's most trusted dance floor rental companies. 
Contact us or call 727-474-9927 for more information today! 
LED Dance Floor Rentals FAQs 
What Size Dance Floor Should I Rent? 
Generally speaking, you can expect about half of your guests to be on the dance floor at a given time. It's also best to allow at least 4.5ft² between each guest and 9ft² for couples. 
So, if you have 200 guests, you would need enough space for 75 to 100 guests — which would call for 18' x 18' LED dance floor rental. 
At Florida LED Dance Floors, the maximum size for our 3D dance floors is 26' x 26,' though we will create custom-sized rentals upon request. Reach out with questions concerning what size LED dance floor you need for your special event today! 
How Much Does an LED Dance Floor Rental Cost?
The cost to rent an LED dance floor depends on the size. You're typically paying for square footage, which can range from $9-$10 per square foot. To estimate what size dance floor you need, look at the number of guests attending your event and the square footage of the venue.
Our rental prices include:
16' x 16': $9.76 per sq. foot

20' x 20': $9.50 per sq. foot
This cost also covers delivery, setup, and a lighting technician to run the dance floor during your event. 
What Types of Events Do You Specialize In? 
Florida LED Dance Floors provides rental options for all types of events, including: 
Grand openings

Corporate events

Showrooms

Fashion shows

Themed parties 

Birthday parties, mitzvahs, and quinceaneras

School dances and formals

Graduation parties 

Engagement parties and weddings
Let us help you turn your special event into a celebration that you and your guests will remember for years to come!