Why Have an LED Dance Floor at Your Party
If you're looking to rent a dance floor for your next party, you should make it an LED one.  A fun, interactive dance floor is sure to get the party started! 
Whether you have a product to highlight or need to get guests into action, LED floors are a great option for venues of all sizes. 
Find out why you should have an LED dance floor at your next party here.
Here's How an LED Dance Floor Will Elevate Your Party
A party can be anything you want it to be. Are you bringing family and friends together for a big announcement? Or networking with coworkers and bosses? 
Either way, an LED dance floor rental can transform your vision of a fun, electric party into a real-life night you and your guests will remember for years. 
Here are a few reasons you should rent an LED dance floor for your get-together: 
Colorful and customizable -

Because LED dance floors are digital, you can choose from a variety of colors to match the theme of your party.

3D LED dance floors

come in various sizes and can be altered to meet your specific requirements. 

Fast assembly -

In many cases, LED dance floors can be set up in less than 45 minutes. Each of the panels has magnetic connections, making assembly quick and easy! 

Makes the most of event space -

LED floors not only let you highlight things, such as the guest of honor, but they can also serve different functions. From dancing to speeches, LED dance floors make a great centerpiece for large or small venues! 

Creative sizing -

With an LED dance floor, you won't be forced to commit to a venue with a built-in dance floor. LED floors are custom-built to fit the size of your space. Dance floor rentals can also be used indoors or outdoors.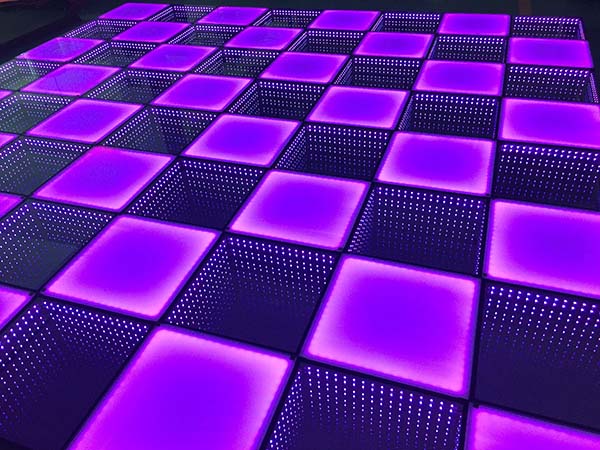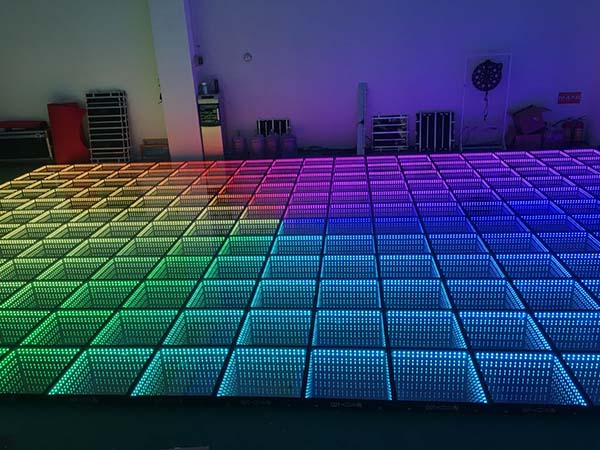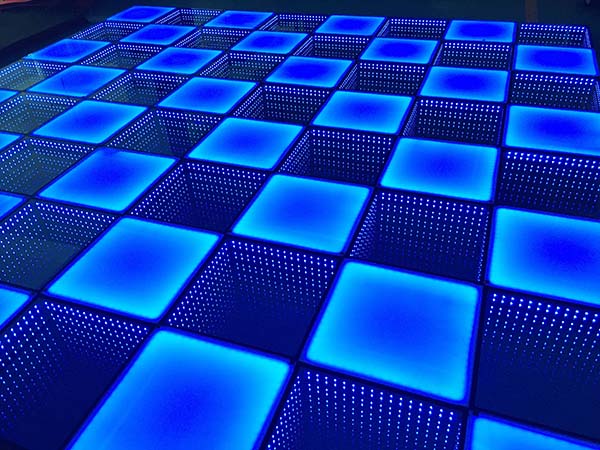 5 Types of Parties LED Dance Floors Can Be Used For
Birthday Parties, Mitzvahs, and Quinceaneras
No matter what you're celebrating, throwing a party is a great excuse to get friends and family together to commemorate a major life event! 
Depending on the size of the event, you'll probably want to have tables and seating, an assortment of food, and special decor – including an LED dance floor! An LED floor will make your family and friends gathering simply unforgettable.
School Dances and Formals
One of the most common types of parties are school dances and formals. The question is, how can you add a personalized touch to your school's largest party? 
LED dance floor rentals are customizable so they can display all kinds of school colors, tile patterns, and more! The floors are also water-resistant – perfect for outdoor use or a crowded dance. 
Graduation Parties
As they always mark an important milestone in life, graduation parties are a great time to kick it up a notch with an LED dance floor.  
Before bringing everyone together, determine how you'd like to entertain your guests during the event – whether that's playing fun games or dancing the night away on an LED dance floor rental! 
Corporate Events 
A corporate event can be as simple as hosting everyone from your office or as involved as meeting with potential clients and business partners. If you're looking to impress, LED dance floors are programmed with hundreds of colors that will brighten your event in a way guests have never seen before. 
Nothing will get your colleagues out on the dance floor like a vibrant, customizable dance floor. 
Engagement Parties
Who doesn't love celebrating the union of two people? Whether you're throwing an engagement party or honoring a newlywed couple, this is an event you can invite everyone to – why not go big with an LED dance floor? 
Need multi-colored tiles? Check. How about an all-white LED floor? Anything is possible with an LED dance floor – the options are endless! 
Tips for Renting an LED Dance Floor for Your Event
Once you've decided on an LED dance floor for your party, consider the following during the planning phase. 
Keep a headcount of guests.

The easiest way to know

what size dance floor rental you need

is to take a look at the guestlist for your event. If you have 100 guests attending, and you assume 50 people will be dancing at a time, you'd need a 16' x 16' foot dance floor. 

Stay within your budget.

Have a tight budget? You can estimate

how much an LED dance floor will cost

depending on the size of your guestlist and the square footage of the event space. For special size requests, ask your rental company for a custom quote. 

Have an idea of where the rental will go.

Generally speaking, you want your dance floor to be central to guests. If you're running low on space, consider a custom-size rental option. And don't forget to position the dance floor so it's in the center of your guests. That way, no one feels left out! If you need help determining the best place to install the dance floor at your event space, just ask! Our team of event planning experts love conceptualizing the space for you. 

Know what style you're going for.

Before designing your rental, have an idea of what you want it to look like! Are you planning a more laid-back party? Or a formal one? Would you prefer a solid color? Or a rainbow of colors synced to the music? Either way, your LED dance floor can be customized to complement the style of your party! 

Find a dance floor that's easy to assemble. 

In the chance of inclement weather, which is common in Florida, it's best to have an

outdoor LED dance floor rental

that's portable and quick to assemble. 
LED Dance Floor Rentals for Parties in Clearwater, FL
Are you throwing a party? Our team of dance floor experts would love to help you elevate it! Regardless of what you have in mind, we'll bring the vision you have for your event to life. 
And, did we mention we also provide LED dance floor rentals for weddings?
Florida LED Dance Floors is based in Clearwater, FL, though we service all of Tampa Bay and South Florida's tri-county region, including: 
Call 727-474-9927 or contact us today for a FREE LED dance floor rental quote!