How Far in Advance Should I Rent an LED Dance Floor?
Renting a dance floor for your upcoming event can save a lot of time and money. But how far in advance should you rent an LED dance floor? And what does the rental process even look like? 
Our LED dance floor experts in Clearwater, FL, have helped hundreds of gatherings go off without a hitch! Here's how far in advance you should rent an LED dance floor according to our event planning experts.
The Best Time to Rent an LED Dance Floor
Each event is unique, which means the answer depends. In many cases, we recommend renting your LED dance floor at least a few months in advance. 
Most weddings book four to six months before the big day, which gives us plenty of time! However, if your nuptials are during wedding season (early summer to late fall), you may want to consider renting a year in advance. 
At Florida LED Dance Floors, our turnaround time is pretty quick. That said,  if we have to go outside the Tampa Bay area, we'll need an extra month or two to plan accordingly. In these instances, It typically takes us about three days to choose a truck and travel to the destination. 
To learn more specific timelines, check out our guide to event planning.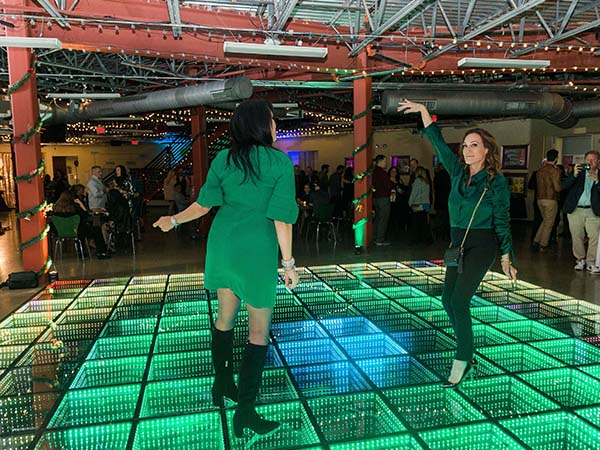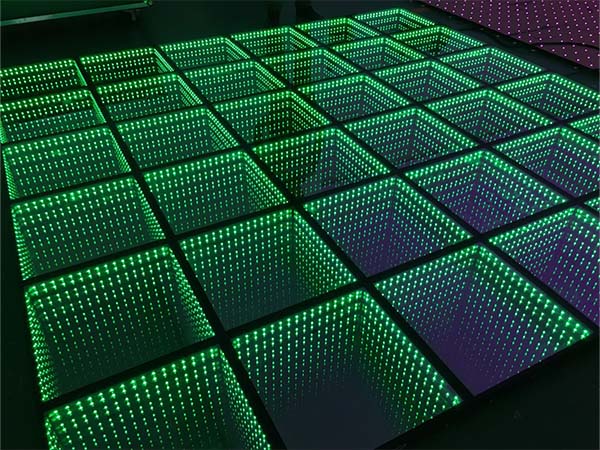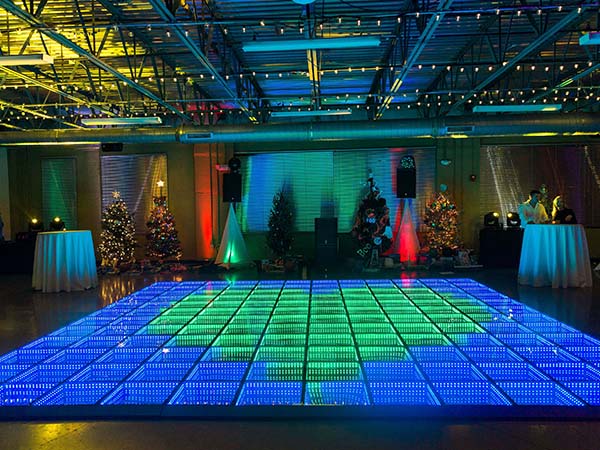 The Process of Renting an LED Dance Floor
Don't pass on the perfect venue because it doesn't have a dance floor – rent one instead! Here's how to rent an LED dance floor! 
Contact Us for a Free Quote 
Call or email Florida LED Dance Floors for a custom LED dance floor rental. The only information we'll need is the approximate size of your event space and the number of guests attending. 
From there, we'll send a FREE dance floor rental quote! 
Design Your Rental
The next step is designing your rental! Florida LED Dance Floors offers a selection of unique options – whether you want the floor to flash in different colors or be synced to your music. 
Our team will brainstorm ideas for your rental while using Photoshop and 3-D programs to show you how we'll transform your venue. 
During this phase, we will determine the configuration of your dance floor as well as any colors or designs you'd like to display. 
Set Up and Tear Down
On the day of your event, we'll take some burden off by setting up the dance floor in 45 minutes or less. But, before doing so, we'll confirm exactly where you want the floor – whether that's at the center of the event hall or outdoors in a party tent! 
Our lighting technicians will stay to operate your rental. Once the festivities have ended, we'll tear down the floor.
Tips for Renting an LED Dance Floor
Planning a successful event involves several different elements. That's why you should enlist the help of a professional dance floor rental company before you hit the ground running. 
Here are a few tips for renting an LED dance floor. 
Keep a headcount -

The easiest way to determine

what size dance floor rental you need

is with the expected size of your crowd. Also, consider how many of your guests are likely to be on the dance floor at a time. Are people likely to dance or sit and watch the festivities? 

Budget carefully - 

How much LED dance floors cost

depends on the size of the rental. Remember, you need room to accommodate each of your guests! For custom rental sizes,

contact us

today. 

Figure out an event theme -

You want a dance floor rental that suits your theme and decor. Whether you're looking for a solid color floor or a variety of shades and hues, the options are endless! That's just one of the

reasons you should rent an LED dance floor

for your party! 
Need to Rent an LED Dance Floor in Clearwater, FL?