Event Planning 101: How to Get Started
Are you planning an event? You came to the right place. 
Event planning is a huge undertaking – whether you're hosting a small gathering or a larger-than-life party! Over the years, our LED dance floor experts in Clearwater, FL, have helped hundreds of clients transform their visions into real-life nights they'll never forget. 
Find out the five steps for creating an event plan, regardless of the size of your event!. 
5 Steps for Creating an Event Plan
1. Work Out the Details
The first step to planning your event is establishing why you're organizing this event. Are you throwing a party for a recent graduate? Hosting a corporate event to meet with potential business partners? Planning a conference to increase product sales?
Regardless of the type of event, defining your goals makes the planning process that much easier. Don't worry, we'll touch on each of these individually below! 
Some details you may want to consider include
Event theme

Location

Date of the event

Food

Entertainment

Guestlist 
2. Set Up an Event Budget
Setting a budget is one of the most important parts of event planning. By doing so, you're avoiding any unwanted surprises, like running out of money or spending more than you'd like to. 
At Florida LED Dance Floors, we recommend mapping out an event budget ahead of time and updating it as needed. For the best results, abide by your budget as well as you can. 
A few crucial expenses you should factor into your budget include
Venue - 

This should cover the cost of the venue, as well as any insurance you're required to purchase. If you haven't chosen a venue yet, keep the maximum you can spend in mind before deciding on one. 

Food -

This is pretty self-explanatory, but the amount of food you can afford might dictate how many attendees can come to your event. Or, if the guest list is already set, you may need to look for more affordable catering options. 

Entertainment -

Entertainment can be anything you want it to be – whether it's speakers or an LED dance floor rental! No matter what you choose, make sure you leave room in your budget to pay vendors. 

Decor -

Are you planning a laid-back event? Or a more formal one? Settling these costs upfront will help you know what you can afford. For example, if you would rather allocate funds towards the venue, maybe you could figure out some DIY decorations. 
Even the best-planned events may have surprise costs come up. Working ahead will help you account for them in your budget. That way, you're not caught unprepared.
3. Set the Date
If this is a recurring event, there might already be a date set. However, if you're planning something new, large or small, there are a few things you should consider. 
Keep the following in mind before deciding on a date for your event.
Give yourself enough time -

For larger events, like weddings, you should set a date at least 4-6 months before the big day. Smaller gatherings usually take less time to plan. 

Be aware of holidays -

For the sake of your guests, we recommend being aware of statutory and religious holidays – unless you're planning an event around a holiday! Depending on the time of year, finding a venue with availability is also important. 

Check with vendors -

Before setting anything in stone, check dates with key participants, including food and entertainment vendors. 
4. Find a Venue
After you've worked out a date, reserve your venue! In many cases, you'll need a date and venue before you let guests know about the event. That said, finding a venue should be completed as early in the planning process as possible. 
As you begin researching venues, ask yourself if the space is a good fit for your event. Consider your budget, event theme, and size of the venue before booking. Just think, a party for 50 people will need a different space than an event for 200. 
Additionally, if you're having entertainment at your event, make sure there's enough room for guests to enjoy it! 
5. Plan Your Entertainment
Once your date and venue are set, plan the agenda for your event! Is there a guest speaker? Will you need to rent anything to fill space or break up parts of the room? As you answer these questions, you can piece together how you want your event to run. 
If you want to create a unique experience for your guests, consider an LED dance floor rental for your event. Not only will a light-up floor elevate your event, but it can also get your friends and family up and dancing! 
Sound good? Here's how renting an LED dance floor works! 
Contact Florida LED Dance Floors for a custom-built rental today! All we need to know is the size of your event space and how many guests you're expecting. From there, our team of experts will send you a FREE rental quote for your next event!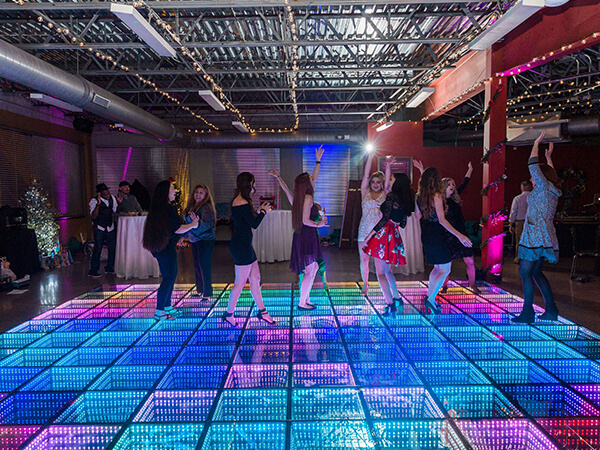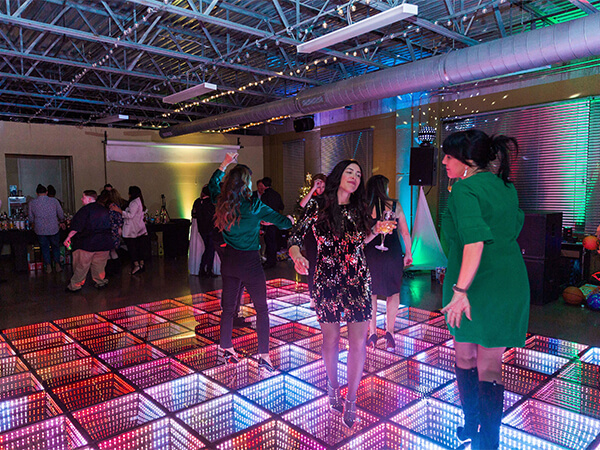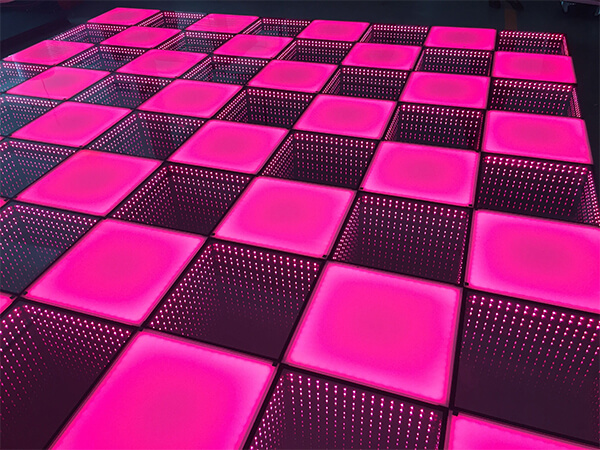 Interested in Renting an LED Dance Floor in Clearwater, FL?
Are you considering renting an LED floor for your event? Fantastic! There are just a few things to bear in mind. 
Here are our tips for renting an LED dance floor.
Stick to your budget -

As mentioned above, establishing an event budget is a crucial part of the planning process. If you're tracking expenses, you can calculate

how much an LED floor rental will cost

based on the size of your venue and guest count. For custom sizes,

call

or

email us

for a quote. 

Have a final guest count -

One way to know

what size dance floor you need

is to check your guest list. Say 100 guests are attending your event – if you think 50 people will be on the dance floor at a given time, you'll need a 16' x 16' foot rental. 

Know where the dance floor will go -

It's best to have your dance floor central to all guests. If this isn't an option, or you need help conceptualizing the space, we can help! Our LED rentals can be altered to meet your particular dimensions. 

Work out an event theme -

Before you design your dance floor rental, reflect on how you want it to look. Whether you'd prefer a solid floor or multi-colored tiles, your rental can be personalized to your event – just another reason

why you should rent an LED dance floor

for your event! 
With this information, our designers will brainstorm ideas for your event, all while sharing their creative concepts with you. We use Photoshop and other 3-D programs to show our clients exactly what their LED rental will look like. 
Our LED dance floors can be used for all types of events — from grand openings to weddings and everything in between! 
LED Dance Floor Rentals in Clearwater, FL
After you figure out the details of your event, give us a call! Our LED dance floor rental company would be delighted to help bring your vision to life! 
Florida LED Dance Floors is located in Clearwater, FL, though we service all of Tampa Bay and South Florida's tri-county region from Orlando down to Miami!
Contact us or call 727-474-9927 for a FREE LED dance floor rental quote today!