How to Choose a Dance Floor
If you're in the market for a dance floor, rental companies provide high-quality equipment for a fraction of the cost. The question is, how do you choose a dance floor?
Over the years, our LED dance floor specialists in Clearwater, FL, have helped transform hundreds of client venues. Whatever style you're looking to create, we'll make it happen – without breaking the bank! 
How to Choose a Dance Floor for your Event
Dance floor rentals for events come in all shapes and sizes! You have tons of options to choose from, whether you're throwing a small, intimate wedding or an outrageous birthday bash.  
Here are a few factors to consider when choosing a dance floor for your next event. 
Dance Floor Material
The first step to choosing a dance floor is finding the right material. From hardwood to faux marble, dance floors come in a variety of styles, including: 
Hardwood 

Vinyl 

Portable tile

Faux marble

LED rentals
So, how do you decide? First, ask yourself what event theme you're going for. Are you opting for a casual atmosphere? If so, you could probably opt for a vinyl or portable tile dance floor. Or do you have potential business partners you need to impress with a more formal feel? A classic hardwood or light up dance floor would work well. 
Also, consider the agenda for your event. Are professional dancers performing? If so, you probably want a shock-absorbent material, such as a sprung, wooden floor. 
Alternatively, if getting guests out of their seats and dancing is your priority, you may opt for something experiential like a LED dance floor rental. 
Dance Floor Size 
Determining what size dance floor you need is another important factor. Generally speaking, the best way to establish this is to look at your guest list. If a dance floor is your only entertainment, consider how much space is needed for people to spread out on the floor. 
A good rule of thumb is to expect about half of your guest list to be on the dance floor at any given time. 
For example, if 100 people are coming to your event, you can assume 50 of them will be on the dance floor at a given time. Each person will need at least 4.5ft² of space, while couples require 9ft². In this case, a 16' x 16' dance floor rental is recommended. 
Event spaces with built-in dance floors are convenient, but they can also be restricting. Many dance floor rentals, such as LED dance floors, come in different sizes and can be modified to meet your specific dimensions. 
Budget 
Setting a budget is crucial to the event planning process. Knowing this will also help narrow down your dance floor options. 
Most dance floor rental companies charge by the square foot, and costs typically range from $200 to upwards of $4,000. The cost for your dance floor depends on the material and size. 
For example, while our LED dance floor pricing depends on the size, the most common sizes and prices are: 
16' x 16' for $2,500 (up to 100 guests) 

20' x 20' for $3,800 (up to 150 guests) 
While renting a venue with a built-in dance floor may seem like the cheaper option, there are still reasons you may want to rent a dance floor. Some rentals, like LED dance floors, can be customized to change colors or flash to the beat of music. 
Though, this comes back to the purpose of the dance floor. If budget is your primary concern, opt for a traditional, wooden dance floor. These are usually $200-$500 depending on the size. 
Event Space
You don't have to miss out on a venue just because it doesn't have a dance floor. 
If you're planning an indoor event, simply rent a dance floor that fits the size of your space – whether it's vinyl or LED! 
Outdoor events are a little more tricky. Before choosing a dance floor rental, consider if it's appropriate for the outdoors. For instance, some materials can't get wet – and considering how unpredictable the weather in Florida can be, you need a rental option suited for both rain and shine. 
3D LED dance floor rentals are water-resistant, which means they're perfect for outdoor use. Other rental options may also work, though you'd need a subfloor to provide a level surface for guests.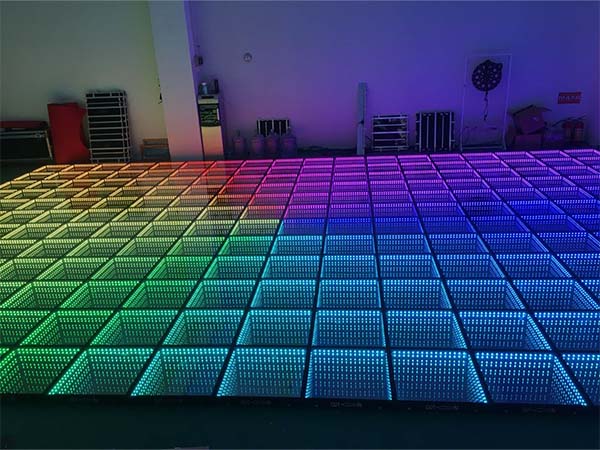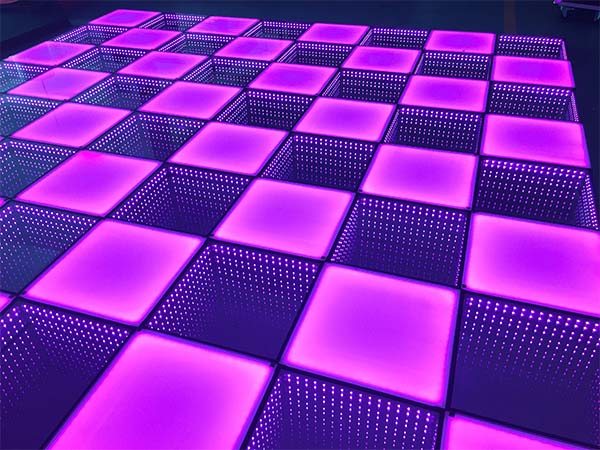 How to Rent an LED Dance Floor
Are you considering an LED floor for your event? Fantastic! Here's how renting an LED dance floor works. 
Just let our team know

how many guests you're expecting and the size of your venue

. We'll brainstorm ideas that work best with the ambiance you're trying to create.

Our designers will use 3-D programs and Photoshop to demonstrate how your rental will look! 

Florida LED Dance Floors will

deliver your rental to your venue and set it up for you

! That way, you can focus on your event going off without a hitch! Once your party is over, we'll break down your dance floor in

45 minutes or less

.
We can also collaborate with you on custom sizes and designs!
LED Dance Floor Rentals in Clearwater, FL